5 Reasons Why Rompers And Onesies Are The Best For Toddlers!
Posted by VAIDEHI GANGAN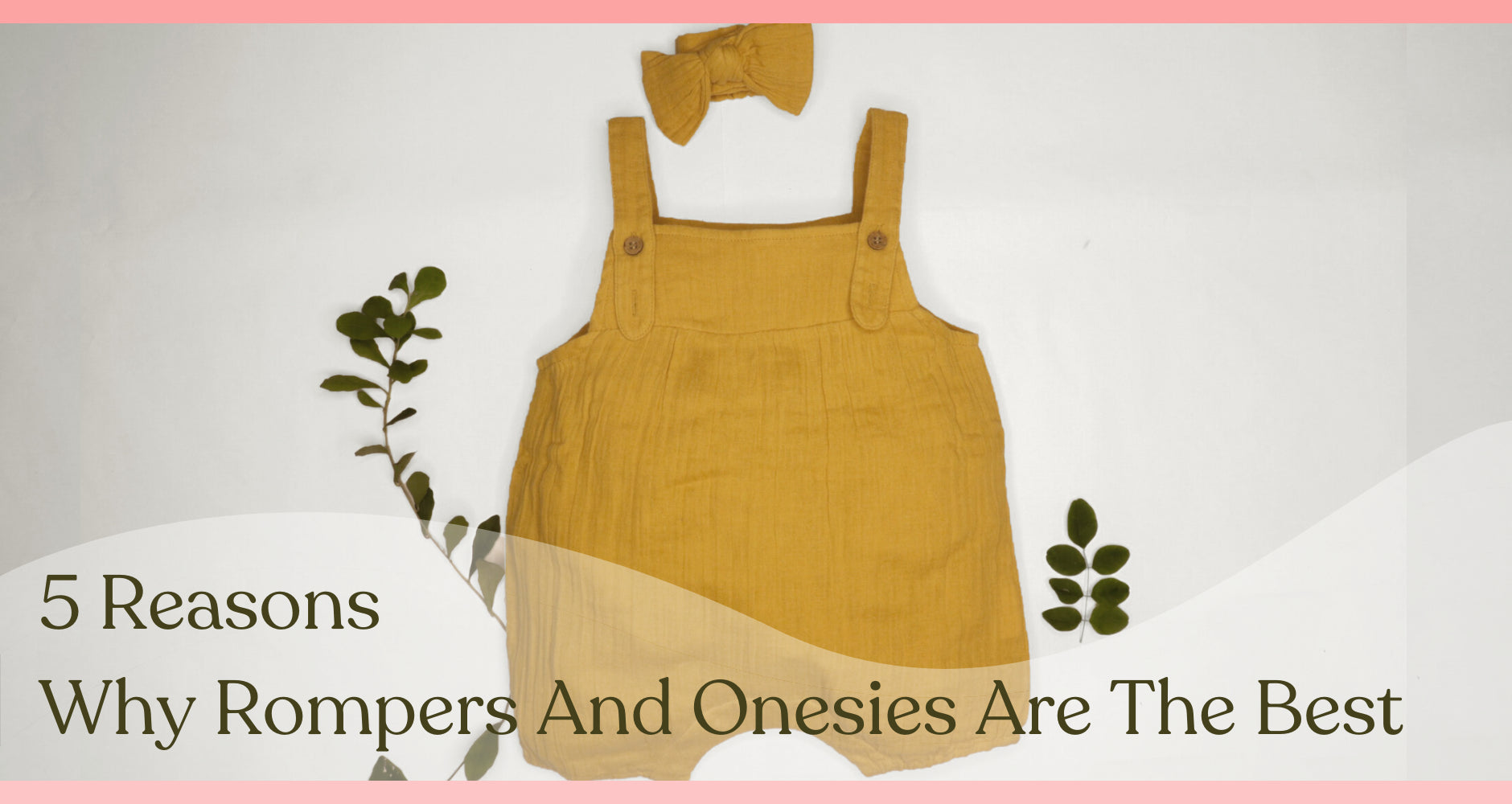 5 Reasons Why Rompers And Onesies Are The Best For Toddlers!
She was just crawling in the nursery, when did she reach the garden! A toddler who has just learned to move can be a LOT of work. It is important that the baby is given all that they need to stay as comfortable in their skin as possible. The words you are looking for are ROMPERS & ONESIES.
We heard from so many parents about how the baby does not want to stay in the frilly gown or the smart tuxedo and fashion for them is restricted to the fading white tee which doesn't even fit them properly anymore! Well, we do not have 5 points on how to get your babies to stay in satin clothes but we do have 5 reasons on how and why a romper could be the meeting point of Mama's urge for fashion and baby's need for ease.
1. Super comfortable
First things, first. Rompers allow the most amount of movement to a baby as compared to any other piece of clothing. They can sit, run, crawl, squat, sleep, dance, jump, skip, play and do literally any verb that comes to mind, while dressed in a romper or onesie. They are beautifully breathable as they allow a lot of free space for air to pass. This way the baby never gets overheated and remains in a breezy mood too. As adults, if we had the option to play around in rompers the whole day, who of us would really pass that opportunity?

2. The Ultimate fashion statement onesies
Onesies are a very western and chic style statement for your baby. With the growing market for baby essentials, plenty of prints and materials are available for you to choose. Undoubtedly, the best romper material is muslin and you must simply not settle for anything other than the best comfort for your little one. Rompers are the meeting point for parents or caregivers who want to dress up the munchkins while the munchkins find all that net and satin too uncomfortable. Moreover, rompers and onesies are also available in different TOG ratings which makes them an all season outfit.

3. Appropriate for all occasions
Choosing amongst formals and summer dresses is an adult choice. With a good collection of rompers and onesies, your baby can wear one of them everywhere. A fancy one when they accompany you to dinner, a sporty one for their play-dates and a soft muslin one for when at home. You don't have to worry at all about your baby being presentable because the cute clothing will be doing its job right. While we are at it, why don't you check out our amazing collection of rompers and onesies? They are so adorable that you would probably want one in your size!
4. Lasts long for growing babies
As babies grow at the speed of batting eyelids, outgrowing clothes can be a common problem. Today it fits them and tomorrow it doesn't. Comfy rompers and onesies are not skin tight for the baby which is why they are super comfortable. This is also the reason why babies can wear them for longer than any other clothing. Rompers and onesies give so much space to grow that even when the baby gains a good number of pounds, the clothes remain useful. Since such clothes provide ample amount of space for growth, chances of hip dysplasia are also majorly reduced.
5. Not heavy on the pockets
Rompers and onesies are cost-efficient as they come in various ranges. Spending too much on clothes that babies outgrow within days, isn't recommended. Rompers come for kids of all ages and if your kid finds comfort in them, you just achieved a milestone! At least worrying about their comfort won't be an issue and all of it in pocket-friendly prices.

The answer to why rompers are the best and onesies are irreplaceable, is a LONG list. If you are used to pants and feel rompers or onesies would be a nuisance when it comes to a dirty diaper, we suggest you try it for a week. It is not only more convenient but it also lessens the wash load as there are no more 3 different parts of one baby's clothes. Basically, rompers and onesies should be your go-to clothes for your babies as they are absolute all-rounders, much like super-parents themselves!
Happy shopping!

Collection 2019
Sale 70% Off
Title for image